Le vilain petit Wooloo
Moderator
(approved by Fc and Aberforth, introduction mostly taken from Minority's post)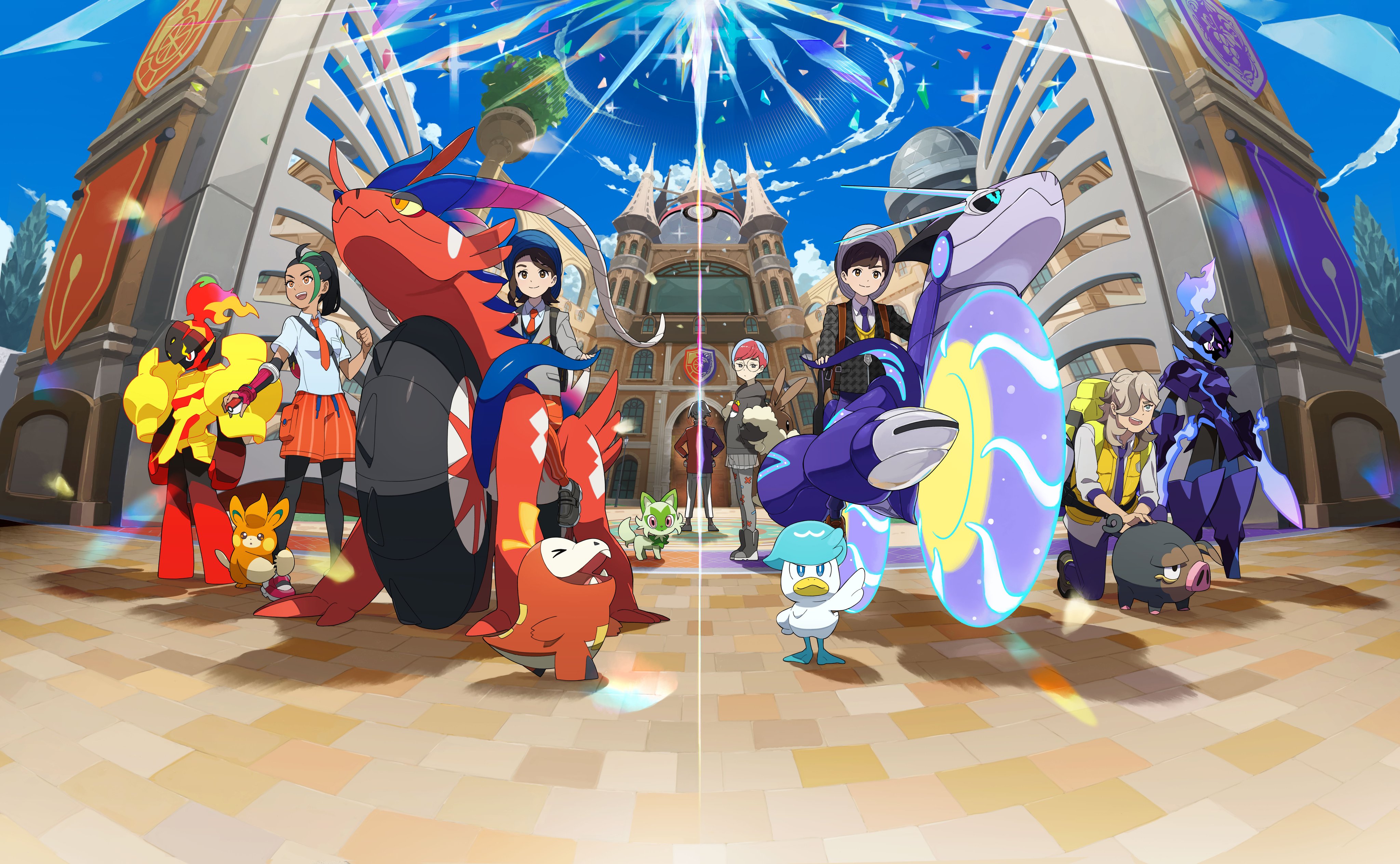 Wonderful artwork from Official Pokemon Twitter
​
These tier lists are limited to (mostly) viable Pokemon, but are intended to lean more towards being inclusive.
Pokemon within each list are in descending order of their real speed stat.
The first number represents the number of EVs.
A (+ or -) indicates how the nature affects the speed stat.
A second number in parentheses represents the number of IVs, only written out for zeros.
"+ some number" indicates a stat increase either from a Choice Scarf or a speed-boosting move / ability. Specified set-ups are also mentioned.
Post additions / revisions with justification.
And without further ado...
600+
​
| | | | |
| --- | --- | --- | --- |
| Speed​ | Pokemon​ | EVs (IVs)​ | Boost(s)/Ability​ |
| 1092​ | Iron Valiant​ | 252+​ | Quark Drive and +2​ |
| 918​ | Iron Bundle​ | 252+​ | Quark Drive and +1​ |
| 910​ | Flutter Mane​ | 252+​ | Protosynthesis and +1​ |
| 842​ | Dragapult​ | 252+​ | +2​ |
| 832​ | Roaring Moon​ | 252+​ | Protosynthesis and +1​ |
| 819​ | Iron Valiant​ | 252+​ | Quark Drive and +1​ |
| 769​ | Iron Treads​ | 252+​ | Quark Drive and +1​ |
| 742​ | Barraskewda​ | 252​ | Swift Swim​ |
| 742​ | Iron Bundle​ | 252​ | +2​ |
| 740​ | Roaring Moon​ | 252+​ | +2​ |
| 684​ | Iron Treads​ | 252+​ | +2​ |
| 674​ | Roaring Moon​ | 252​ | +2​ |
| 670​ | Hawlucha​ | 252​ | Unburden​ |
| 662​ | Iron Valiant​ | 252​ | +2​ |
| 650​ | Hawlucha​ | 212​ | Unburden​ |
| 632​ | Iron Bundle​ | 32​ | +2​ |
| 632​ | Koraidon​ | 40​ | +2​ |
| 632​ | Miraidon​ | 40​ | +2​ |
| 631​ | Dragapult​ | 252+​ | +1​ |
| 622​ | Iron Treads​ | 252​ | +2​ |
| 616​ | Koraidon​ | 8​ | +2​ |
| 616​ | Miraidon​ | 8​ | +2​ |
| 612​ | Iron Bundle​ | 252+​ | +1​ |
| 607​ | Flutter Mane​ | 252+​ | +1​ |
| 607​ | Koraidon​ | 252+​ | +1​ |
| 607​ | Miraidon​ | 252+​ | +1​ |
| 600​ | Baxcalibur​ | 252+​ | +2​ |
| 600​ | Great Tusk​ | 252+​ | +2​ |
500-599
​
| | | | |
| --- | --- | --- | --- |
| Speed​ | Pokemon​ | EVs (IVs)​ | Boost(s)/Ability​ |
| 590​ | Ceruledge​ | 252+​ | +2​ |
| 574​ | Dragapult​ | 252​ | +1​ |
| 568​ | Dragonite​ | 252+​ | +2​ |
| 568​ | Meowscarada​ | 252+​ | +1​ |
| 562​ | Cyclizar​ | 252+​ | +1​ |
| 562​ | Maushold​ | 252+​ | +1​ |
| 558​ | Dugtrio​ | 252+​ | +1​ |
| 555​ | Roaring Moon​ | 252+​ | +1​ |
| 553​ | Koraidon​ | 252​ | +1​ |
| 553​ | Miraidon​ | 252​ | +1​ |
| 548​ | Espathra​ | 112​ | +2​ |
| 546​ | Baxcalibur​ | 252​ | +2​ |
| 546​ | Iron Valiant​ | 252+​ | +1​ |
| 524​ | Polteageist​ | 252+​ | +2​ |
| 522​ | Walking Wake​ | 252+​ | Protosynthesis​ |
| 518​ | Dragonite​ | 252​ | +2​ |
| 516​ | Houndstone​ | 252+​ | Sand Rush​ |
| 513​ | Iron Treads​ | 252+​ | +1​ |
| 508​ | Dugtrio​ | 252​ | +1​ |
| 508​ | Pawmot​ | 252+​ | +1​ |
| 505​ | Iron Leaves​ | 252+​ | Quark Drive​ |
| 505​ | Roaring Moon​ | 252​ | +1​ |
400-499
​
| | | | |
| --- | --- | --- | --- |
| Speed​ | Pokemon​ | EVs (IVs)​ | Boost(s)/Ability​ |
| 498​ | Scovillain​ | 252​ | +2​ |
| 496​ | Garchomp​ | 252+​ | +1​ |
| 496​ | Iron Treads​ | 0​ | +2​ |
| 492​ | Chi-Yu​ | 252+​ | +1​ |
| 492​ | Palafin​ | 252+​ | +1​ |
| 481​ | Maushold​ | 252​ | +1​ |
| 478​ | Polteageist​ | 252​ | +2​ |
| 470​ | Houndstone​ | 252​ | Sand Rush​ |
| 466​ | Iron Treads​ | 252​ | +1​ |
| 459​ | Annihilape​ | 252+​ | +1​ |
| 450​ | Baxcalibur​ | 252+​ | +1​ |
| 450​ | Great Tusk​ | 252+​ | +1​ |
| 448​ | Chi-Yu​ | 252​ | +1​ |
| 448​ | Palafin​ | 252​ | +1​ |
| 442​ | Quaquaval​ | 252+​ | +1​ |
| 426​ | Dragonite​ | 252+​ | +1​ |
| 420​ | Great Tusk​ | 0​ | +2​ |
| 411​ | Espathra​ | 112​ | +1​ |
| 409​ | Baxcalibur​ | 252​ | +1​ |
| 409​ | Great Tusk​ | 252​ | +1​ |
| 408​ | Iron Bundle​ | 252+​ | /​ |
| 405​ | Chien-Pao​ | 252+​ | /​ |
| 405​ | Flutter Mane​ | 252+​ | /​ |
| 405​ | Koraidon​ | 252+​ | /​ |
| 405​ | Miraidon​ | 252+​ | /​ |
| 403​ | Quaquaval​ | 252​ | +1​ |
300-399
​
| | | | |
| --- | --- | --- | --- |
| Speed​ | Pokemon​ | EVs (IVs)​ | Boost(s)/Ability​ |
| 388​ | Dragonite​ | 252​ | +1​ |
| 383​ | Weavile​ | 252+​ | /​ |
| 379​ | Meowscarada​ | 252+​ | /​ |
| 376​ | Gothitelle​ | 252+​ | +1​ |
| 375​ | Cyclizar​ | 252+​ | /​ |
| 372​ | Dugtrio​ | 252+​ | /​ |
| 370​ | Roaring Moon​ | 252+​ | /​ |
| 369​ | Chien-pao​ | 252​ | /​ |
| 369​ | Flutter Mane​ | 252​ | /​ |
| 369​ | Koraidon​ | 252​ | /​ |
| 369​ | Miraidon​ | 252​ | /​ |
| 364​ | Iron Valiant​ | 252+​ | /​ |
| 355​ | Lycanroc​ | 252+​ | /​ |
| 353​ | Maushold​ | 252+​ | /​ |
| 350​ | Froslass​ | 252+​ | /​ |
| 350​ | Iron Moth​ | 252+​ | /​ |
| 349​ | Weavile​ | 252​ | /​ |
| 348​ | Walking Wake​ | 252+​ | /​ |
| 342​ | Iron Treads​ | 252+​ | /​ |
| 339​ | Pawmot​ | 252+​ | /​ |
| 337​ | Iron Leaves​ | 252+​ | /​ |
| 335​ | Hawlucha​ | 252​ | /​ |
| 333​ | Garchomp​ | 252+​ | /​ |
| 330​ | Miraidon​ | 96​ | /​ |
| 328​ | Chi-Yu​ | 252+​ | /​ |
| 328​ | Palafin​ | 252+​ | /​ |
| 325​ | Hawlucha​ | 212​ | /​ |
| 324​ | Hydreigon​ | 252+​ | /​ |
| 319​ | Iron Moth​ | 252​ | /​ |
| 317​ | Walking Wake​ | 252​ | /​ |
| 315​ | Great Tusk​ | 0​ | +1​ |
| 315​ | Tinkaton​ | 252+​ | /​ |
| 311​ | Iron Treads​ | 252​ | /​ |
| 308​ | Koraidon​ | 8​ | /​ |
| 308​ | Miraidon​ | 8​ | /​ |
| 307​ | Iron Leaves​ | 252​ | /​ |
| 300​ | Baxcalibur​ | 252+​ | /​ |
| 300​ | Great Tusk​ | 252+​ | /​ |
200-299
​
| | | | |
| --- | --- | --- | --- |
| Speed​ | Pokemon​ | EVs (IVs)​ | Boost(s)/Ability​ |
| 299​ | Chi-Yu​ | 252​ | /​ |
| 299​ | Palafin​ | 252​ | /​ |
| 298​ | Glimmora​ | 252+​ | /​ |
| 298​ | Rotom-Wash​ | 252+​ | |
| 295​ | Ceruledge​ | 252+​ | /​ |
| 295​ | Quaquaval​ | 252+​ | /​ |
| 295​ | Hydreigon​ | 252​ | /​ |
| 293​ | Gholdengo​ | 252+​ | /​ |
| 287​ | Slither WIng​ | 252+​ | /​ |
| 284​ | Dragonite​ | 252+​ | /​ |
| 284​ | Masquerain​ | 252+​ | /​ |
| 274​ | Espathra​ | 112​ | /​ |
| 273​ | Great Tusk​ | 252​ | /​ |
| 267​ | Gholdengo​ | 252​ | /​ |
| 262​ | Cloyster​ | 252+​ | /​ |
| 262​ | Polteageist​ | 252+​ | /​ |
| 261​ | Slither Wing​ | 252​ | /​ |
| 259​ | Dragonite​ | 252​ | /​ |
| 259​ | Scream Tail​ | 4​ | /​ |
| 258​ | Houndstone​ | 252+​ | /​ |
| 251​ | Gothitelle​ | 252+​ | /​ |
| 249​ | Scovillain​ | 252​ | /​ |
| 239​ | Cloyster​ | 252​ | /​ |
| 239​ | Polteageist​ | 252​ | /​ |
| 236​ | Palafin​ | 0​ | /​ |
| 235​ | Houndstone​ | 252​ | /​ |
| 232​ | Forretress​ | 0​ | +2​ |
| 226​ | Dachsbun​ | 0​ | /​ |
| 221​ | Gothitelle​ | 220​ | /​ |
| 218​ | Kingambit​ | 252+​ | /​ |
| 210​ | Great Tusk​ | 0​ | /​ |
| 209​ | Glimmora​ | 4​ | /​ |
| 208​ | Forretress​ | 0​ | +2​ |
| 208​ | Rotom-Wash​ | 0​ | /​ |
| 200​ | Skeledirge​ | 128​ | /​ |
100-199
​
| | | | |
| --- | --- | --- | --- |
| Speed​ | Pokemon​ | EVs (IVs)​ | Boost(s)/Ability​ |
| 199​ | Azumarill​ | 252​ | /​ |
| 199​ | Kingambit​ | 252​ | /​ |
| 187​ | Grimmsnarl​ | 84​ | /​ |
| 186​ | Klefki​ | 0​ | /​ |
| 184​ | Avalugg​ | 0​ | +2​ |
| 176​ | Wo-Chien​ | 0​ | /​ |
| 172​ | Gothitelle​ | 24​ | /​ |
| 172​ | Forretress​ | 0​ | +1​ |
| 171​ | Iron Hands​ | 140​ | /​ |
| 171​ | Skeledirge​ | 12​ | /​ |
| 171​ | Ting-Lu​ | 180​ | /​ |
| 170​ | Corviknight​ | 0​ | /​ |
| 168​ | Skeledirge​ | 0​ | /​ |
| 166​ | Alomomola​ | 0​ | /​ |
| 166​ | Orthworm​ | 0​ | /​ |
| 166​ | Pelipper​ | 0​ | /​ |
| 156​ | Grimmsnarl​ | 0​ | /​ |
| 152​ | Forretress​ | 0- (0)​ | +2​ |
| 139​ | Corviknight​ | 0 (0)​ | /​ |
| 138​ | Avalugg​ | 0​ | +1​ |
| 137​ | Iron Hands​ | 4​ | /​ |
| 136​ | Kingambit​ | 0​ | /​ |
| 130​ | Hippowdon​ | 0​ | /​ |
| 127​ | Corviknight​ | 0- (3)​ | /​ |
| 126​ | Ting-Lu​ | 0​ | /​ |
| 121​ | Pelipper​ | 0- (0)​ | /​ |
| 116​ | Forretress​ | 0​ | /​ |
| 114​ | Torkoal​ | 0​ | +1​ |
| 107​ | Dondozo​ | 4​ | /​ |
| 107​ | Garganacl​ | 4​ | /​ |
| 106​ | Toxapex​ | 0​ | /​ |
99-
​
| | | | |
| --- | --- | --- | --- |
| Speed​ | Pokemon​ | EVs (IVs)​ | Boost(s)/Ability​ |
| 97​ | Hatterene​ | 12​ | /​ |
| 96​ | Amoonguss​ | 0​ | /​ |
| 96​ | Slowbro​ | 0​ | /​ |
| 96​ | Slowking​ | 0​ | /​ |
| 92​ | Avalugg​ | 0​ | /​ |
| 76​ | Clodsire​ | 0​ | /​ |
| 76​ | Torkoal​ | 0​ | /​ |
| 58​ | Slowking​ | 0- (0)​ | /​ |